Yellow. Sunny, optimistic yellow.
In design, a bold, impacting statement. Or depending on the tone, a warm, soft, golden-ed backdrop. It is the latter, as a tempting base to a Classical Victorian or Georgian design scheme, which has granted us many impressive interiors, telling tales of history and decoration.
One of the most famous rooms in English interior design history, The Yellow Room, on Brook Street in London, and now Grade II listed, was created by American heiress turned interior decorator Nancy Lancaster.
The room was in an early building of Lancaster's design firm Colefax and Fowler. The large drawing room with envious heights and a vaulted ceiling, was painted in rich, glossy yellow and daringly, featured pretty much every shade, tone, tint and texture of the warming, canary colour. The monotone use of this rich choice certainly brings attention and energy to the finish, bringing interesting layers and depth.
Nancy Lancaster, together with John Fowler, are known widely for creating much of the English country house looks. In her high society circles, her maternal aunt was the politician Nancy Astor, a wife at one point of Walford Astor, her knowledge of classical design will have included inspiration from many English manors and castles. Indeed Buckingham Palace in London must have been an inspiration for The Yellow Room, given its namesake.
This watercolour image by James Roberts, shows The Yellow Drawing Room at the Palace which was redecorated under Queen Victoria in 1855 for a State Visit.
The striking statement of this spectacular room, from its walls hung with richly figured yellow silk, to the rich mustard motif fabrics with deep yellow trims and tassels, and the gilt wood mirrors and furniture, is bold and distinctly influenced by the decoration and function in Louis XVI interiors in France before. It doesn't get any more yellow!
In more recent times, the regal scheme continues to hold stately charms. The most famous of stately homes, yellow has played a role throughout The White House since 1800.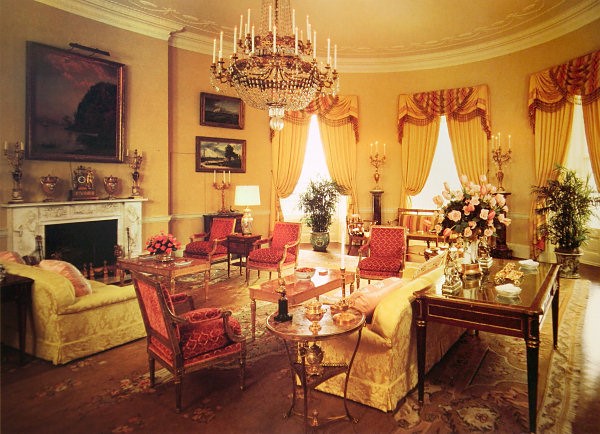 The design of the mansion was that of Irish architect, James Hoban, with the main residence featuring the formal Yellow Oval Room, used for private receptions with the First Family. Given its namesake, the room is traditionally decorated with yellow, and has been furnished in the Louis XVI style.
As many First Ladies come through the White House doors, so too the interior décor of the Residence evolves. Yellow, or more specifically ecru, played a role in First Lady Laura Bush's project to redecorate a number of rooms. The East Sitting Hall featured mustardy tones of ecru, the colour of parchment, on walls, through window treatments and on furniture upholstery. The First Lady worked with the Bush family designer Kenneth Blasingame on the stylish update.
Undoubtedly, Mrs. Bush will have taken inspiration from the work of First Lady Jackie Kennedy in the early 1960s. Mrs. Kennedy's well documented and dramatic efforts to renovate and breathe new life into the White House décor was an incredible success, as she worked with a team of historians, White House staffers, American antiques autodidact Henry Francis du Pont and French interior designer Stéphane Boudin.
Mrs. Kennedy's prestigious upbringing and appreciation for fine arts, period furniture and the aesthete, ensured the stories of history and heritage were told through the refurbishment, not least though the play of stately, opulent shades of yellow. Sixty million Americans tuned in to watch Mrs. Kennedy's tour of the White House in 1962 after the renovation works were complete.
---
Create Your Story
While we may not have a Stately home with a vaulted ceiling drawing to entertain heads of nations or host magnificent banquets, we can have a taste of the décor.
Upholstery and soft furnishings brings depth to design schemes. This Feuillage Vague fabric by the collections of Hermès Paris adds subtle summery, broad-brushed palms to a orpiment room. Luxury wallcovering company de Gournay developed from Claud Cecil Gurney's love of eastern art. This yellow chinoiserie handpainted wallpaper makes a brave, bold and bright impact. Farrow & Ball's Babouche wall paint is a strong distinctive yellow paint inspired by, and named after, the Arabian leather slippers worn by men in Morocco.
---
Dtale is a series of interior design tales, telling the story of interesting and impactful design approaches, through history, society, and sometimes, just a little humour.